Watches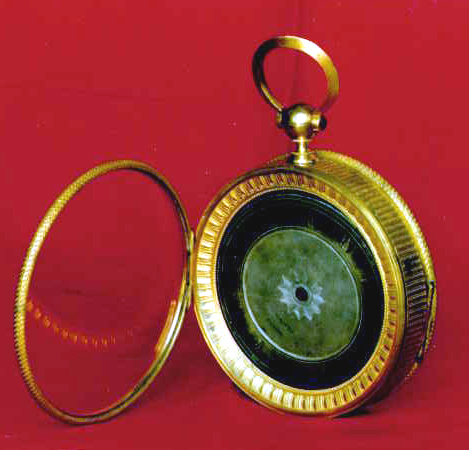 An English Fusee Chain Coach Watch verge movement by William Wright ( a. 1684 - d. 1758 ) housed in a case by another William Wright of early 19th Century ( 1828 case maker )

It's gilt metal case measures dia 12 cms. and 3 cms. thick, with silver/center has applied chapter ring of gilded metal. The bras dial with golden chaspters has decorative metal collar-ring. The dial bears the signature " Willaim Wright , London" on the front below 6 O'clock and same signature is repeated on the rear side of the dial plate.

The verge watch movement has two trains one for the time keeping and another one for repeating quarters, repeating mechanism is not by a key wind mechanism, but is a pull wind repeat system.The balance wheel placed under a gilded decorative clock engraved and pierced. The clock has a mask also.


OTHER COLLECTIONS
African Artifacts
Books & Manuscripts
Bronze Items
Calligraphy
Cameras
Ceramic Plates
Chandeliers
Chemical Paintings
Chinese Game
Chinese Prints
Coins
Counches
Currency
Ebony Wood Items
Film Posters
Furnitures
International Art
Lamps
Letter Heads
Lighters
Lithographs
Maps
Masks
Medals
Miniature Drawings
Miniatures
Mother Teresa Album
Old Photographs
Oleographs
Pearl Buttons
Pens
Pentimentoes
Post Cards
Prints
Rare Stones
Rudraksh
Sculptures
Serigraphs
Stamp Papers
Telephones
Watches
White Rudraksha Mala